I feel that a big part of being vegetarian or vegan is learning how to cook. You won't succeed if you don't enjoy being in the kitchen! There are a lot of premade products out there such as imitation hot dogs, "bacon", "sausage", as well as a ton of overly processed boxed foods that fall under that category, but they are laden with preservatives, refined sugars and usually have nutrients added to them (might as well just take a multivitamin).
I went vegetarian for the first time around 2013 and I found the joy of cooking during that experience. I tried so many foods I had not tried before and learned that vegetarian and vegan cooking is all about flavour! It's not all salads and bland food lacking meat, it's your favourite comfort foods with little tweaks plus some truly unique creations you wouldn't try otherwise.
Over the years I have tried many cookbooks looking for tasty vegetarian recipes. Some of them have passed the test while others were a disappointment. Below are a list of my favourites with some recipe recommendations.
This is a growing list that will be updated from time to time.
Disclosure: Some of the links in this post are affiliate links, meaning, at no additional cost to you, I will earn a commission if you make a purchase. Be assured that I do not endorse anything I do not support or have tried myself. These links also help keep this site running. I appreciate the support!
This cookbook isn't going to give you elaborate restaurant quality recipes, but it will give you simple recipes for everyday cooking that will not break your wallet.
What I like about it is each recipe only contains 5 ingredients! It also provides a menu with each recipe so you can pair foods. For example "Spinach Fettuccine with Summer Squash" is suggested to be paired with "Corn Frittata Parmesan" or "Contemporary Creamed Spinach Salad".
Recommended recipes
: Avocado and Ricotta Soft Tacos; Adzuki Beans with Broccoli and Miso; Barley with Mushrooms and Browned Onions
I purchased this cookbook a few years ago because I wanted to try more vegan recipes and I thought the title was funny! The food photography in this book is also really amazing.

If your a fan of the Edgy Veg on YouTube, then I think you will also love Mary Mattern's recipes. Her focus is on plant based comfort foods and American dishes.

Recommended recipes: California Tofu Benedict (the vegan hollandaise sauce it's amazing!)





Angela Liddon has two cookbooks, a smart phone app and a blog where she shares her vegan recipes.
The Oh She Glows Cookbook
is her first cookbook and very popular among the vegan community.
What I like about Angela's recipes is her focus on homemade plant based whole foods that are meant to make you feel your best.
Recommended recipes
: Quick and Easy Chana Masala; Soul-Soothing African Peanut Stew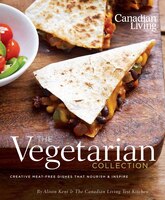 This cookbook has a good variety of salads, pastas, vegetarian proteins, soups, eggs, beans and veggie based recipes. Written by Alison Kent and The Canadian Living Test Kitchen, I haven't run into a recipe that didn't turn out yet.
Last year they published
an update
to this cookbook, with new recipes, but I have yet to get my hands on it!
Recommended recipes
: Shiitake Peanut Pilaf; Tagliatelle with Parmesan, Pine Nuts & Lemon; Chilled Asian Noodle Salad
There are also some omnivore cookbooks that have really good vegetarian recipes. The Weight Watchers Freestyle Cookbook and Martha Stewart's Clean Slate cookbook are two that I have and repeatedly use the recipes.
I'm also a big recipe collector on Pinterest. My "Food" board currently holds 1,203 vegetarian and vegan recipes!
Follow this link to follow me
!
Share your favourite vegetarian/vegan cookbooks in the comments below! I'm always looking for recipe recommendations.
PIN ME!