Instagram is one of my favourite visually focused social media platforms. I'm amazed at the amount of work some of the Influencers put into their feeds and aim for that level. There is so much work that goes into creating a professional feed, including planning a theme, filters, photography, composition, creating the perfect caption and choosing the right Instagram hashtags. In addition, there are many resources such as apps that are targetting users like us.
I remember when I first started sharing on Instagram. Smartphone cameras weren't as good as they are now so my photographs were extremely poor in quality. It was also a personal account so my captions described what was happening in the photograph ("my cat is invisible"). I also didn't completely understand the power of hashtags and how they can help you get discovered by other users.
It's no surprise my engagement was low.
Disclosure: This post is sponsored by Tailwind, meaning I may be compensated for it, though all opinions are mine. This post also contains affiliate links, which means, at no extra cost to you, I will earn a small commission from any purchases made through these links. For more information about sponsored content and affiliate links see my disclosure policy.
INSTAGRAM HASHTAGS 101
An Instagram hashtag is a keyword or phrase preceded by the pound ("#") symbol. On Instagram, when a word begins with the pound symbol it turns it into a searchable keyword you can click on called a hashtag.
These are used to group similar photos, themes, ideas, products, etc. on the platform so they can be accessed by interested users.
For example, I recently shared this photograph of some coffee beans with the caption and hashtags:
You can never have enough coffee, am I right? Especially as an entrepreneur working long hours starting a biz! I got these Fair Trade Columbian beans in bulk from @bulkbarn. What's your go to brand? #caffeineandconquer #coffee #coffeebeans #roastedcoffee #packagefree #caffeinate #entrepreneur #hustlemode #glassjar #makersbiz #startupbusiness #businessgoals
If a user searched for posts using those Instagram hashtags there is a chance they will come across my post!
As a blogger, choosing the right Instagram hashtags can attract the right readers, increase your reach and engagement.
But how do you know which hashtags to use?
HASHTAG KEYWORD RESEARCH
There are plenty of ways to discover useful Instagram hashtags for your posts – some better than others.
Here is some method I have used:
Guess hashtags and choose suggestions while posting your photo on Instagram
Google search popular hashtags in your niche (these can be overly saturated or outdated)
Use Tailwind's Hashtag Finder 2.0
It's using Hashtag Finder 2.0 that I'm most interested in, so keep reading!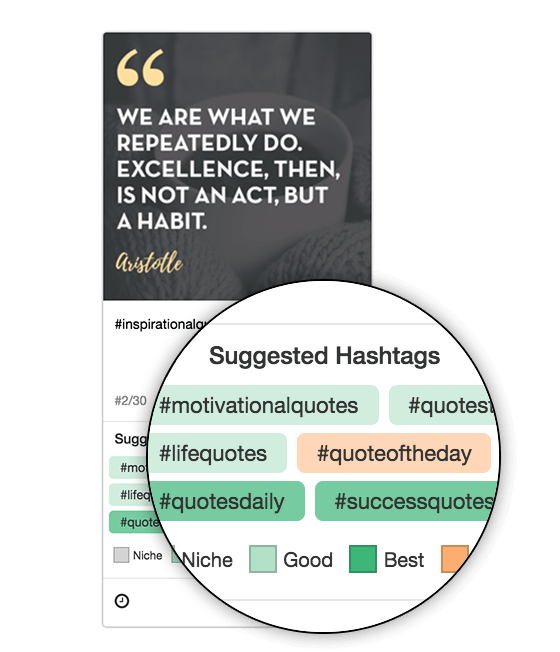 TAILWIND HASHTAG FINDER 2.0
I love Tailwind app for Pinterest, but did you know it can also be used for Instagram? They recently improved their Hashtag Finder (hence the "2.0") and it's definitely worth sharing.
The Hashtag Finder works by generating Instagram hashtag recommendations for each individual post. What I love about this feature is how easy it is to choose the best hashtags and to quickly add them to your caption. I'll explain how each step works through the desktop app on a PC (sorry Apple users!).
Here are the instructions again, in case the video doesn't work!
Upload Your Photo
Once you've set up your Instagram account on Tailwind upload an image into your "Drafts". After it has been uploaded you can then add your caption and select your hashtags.
Adding Hashtags
You will notice when you start to input your caption text Tailwind automatically starts suggesting hashtags based on your caption. There is no need to research relevant hashtags because it's provided for you!
The suggestions are colour coded based on which are likely to get you the most reach. There are four distinctions: niche, good, best and competitive. The app decides this based on how often the hashtag is shared. For example, an Instagram hashtag with 2 million shares is too competitive. If all of your hashtags were competitive your post won't show very long and will get lost in the million other posts. These hashtags are shown in orange on the app. In comparison, a hashtag with 200,000 shares is considered best because it's used enough that people are searching for it but isn't overly competitive so your photo is more likely to be seen. These appear in dark green.
Hashtag Lists
Another great feature of the Hashtag Finder 2.0 is hashtag lists. Tailwind gives you the option to collect a list of hashtags that are working well for you. This makes it easier to add them to future posts then add any new relevant tags.
This feature is similar to its Board Lists for Pinterest.
Add to Queue and Publish
After you finish adding up to 30 Instagram hashtags, submit your completed post to Tailwind's queue. If you have set up auto-post Tailwind will post for you. However, if you don't have it set up you will receive a message letting you know when it is time to publish.
That's it! Upload, hashtag and publish in a few quick steps without having to research Instagram hashtags beforehand!
OTHER TAILWIND INSTAGRAM FEATURES
Check out these other Tailwind features available for Instagram:
Smart Schedule
Schedule your posts when your followers are most engaged. Tailwind can do this because they analyze your account to find the best times to post. Then, they generate a "smart schedule" based on these times.
The benefit to you is your likely to receive more likes and comments during times of high engagement.
Auto-Post
Manage your social media more efficiently by auto-posting directly from Tailwind. Schedule your post once and Tailwind does the rest of the work for you.
You can work on other business tasks instead!
Easily Regram
Another feature I love about Tailwind for Instagram is the ability to share other peoples content. Have you ever seen posts that had the hashtag #regram and credited another account? This is usually because someone is sharing another users post.
I love this because sometimes someone shares a post that would resonate really well with your followers, so why not share it! Just make sure you're giving full credit to the original poster.
Extra Analytics
Lastly, Tailwind provides further analytics data to illustrate your profile's growth, best posts and help you use that information to provide better content for your audience.
HOW TO SIGN UP
Tailwind offers a free trial to anyone interested in trying the app out for themselves. With the trial, you can schedule 100 pins with a Pinterest account and 30 posts with an Instagram account before deciding to subscribe.
You also have access to Tailwind's tutorial videos, which will help you get the most out of it.
If your thinking, "what am I waiting for, I want to up my Instagram game", sign up here!